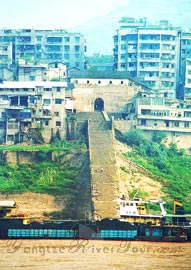 Covering a mountainous area of about 4,099 square kilometers (1,012,885 acres), Fengjie County has now been inundated by water due to the recently completed Three Gorges Reservoir. A new Fengjie County township has been constructed at a higher altitude. It took five years for the construction of new buildings and the resettlement of about 124,000 inhabitants. For more details about the impact of the
Three Gorges Project
on surrounding areas, please click
Impact On Sights
.
Fengjie County lies to the east of
Chongqing
Municipality and has a population of about 1 million. Rich in historical sites and scenic spots, Fengjie is known as the 'City of Poems'. A great many poems are inscribed on the numerous steles scattered throughout the region. Baidi City and the
Qutang Gorge
are among the most well-known tourist attractions in Fengjie.

The topography in Fengjie County is varied and dramatic; rivers flow through deep valleys against a backdrop of lofty mountains. Although the area is generally warm in spring and hot in summer, the climate changes considerably with an increase in altitude; mountainous areas are cooler than valleys. The yearly average temperature is 16.4oC (61.5oF).

Fengjie County has a long history of human settlement. The famous Daxi Culture Heritage Site of 6,000 years ago was discovered in this area. The name of the county has been changed many times. It was not until the year 649, in the Tang Dynasty (618-907) that the county was christened 'Fengjie', the name that is still used to this day.

White Emperor City (Baidi City)

Baidi City, a place full of poetic sense, gleams amongst forest-covered hills on the north bank of the Yangtze River near the entrance of the Qutang Gorge. Surrounded by waters, Baidi City gains its popularity by its rich heritage of literature contribution during thousands of years.

Baidi City posts the best viewpoint for the imposing 'Kuimen' (entrance of the Qutang Gorge). Countless literary works were left here by poets and intellectuals, ranging from the Tang Dynasty (618-906) to the Qing Dynasty (1644-1911). Some are quite famous and widely known. No wonder it is reputed as the 'City of Poets'.

Baidi City is comprised of several architectural styles of the Ming and Qing periods including Mingliang Hall, Wuhou Pavilion, and Wangjiang Pavilion. Visitors can also experience the history of the Baidi City by roaming through the many exhibition halls. There are more than 1,000 items of historical relics from different dynasties displayed. Over 100 paintings and calligraphies, and about 70 stone steles are sure to be a great vision for Chinese calligraphic lovers. Hanging coffins , as well as the relics excavated from inside the Qutang Gorge are also exhibited.


| | |
| --- | --- |
| Admission Fee: | CNY 85 |
| Opening Hours: | 09:10 to 17:00 |